Find out about all the latest product launches, online shop discounts & special events before anyone else!

WE BELIEVE THAT CARING FOR YOUR SKIN AND CARING FOR THE EARTH SHOULD GO HAND IN HAND.
BDirty is committed to making natural products that actually work to eliminate the temptation of commercial skincare!
We aspire to inspire our local and global community to enhance the health of our skin and planet, humbly attempting to lead by example by offering effective natural products and educational information.  Simple, pure, organic and chemical-free, we use the highest quality local ingredients wherever possible.
So bdirty!  We've got you covered.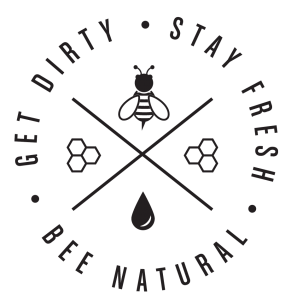 HANDMADE ORGANIC DEODORANT

ALUMINIUM, PARABEN & PHTHALATES FREE

RECYCLABLE & REUSABLE GLASS PACKAGING

GMO-FREE

TESTED ON FRIENDS NOT ANIMALS
You are not alone if you are sceptical of natural deodorant products.
At BDirty we have also tried many ineffective natural deodorants and endured many stinky days.  But never fear!  We found a solution.  Our unique formula is not only good for you but uber effective!
Beelievers.

"I've long used natural deodorants that have had alcohol as its main ingredient. Now it was failing and irritating my skin at the same time. Thankfully, I tried Kate's natural deodorant and loved the way it worked for me. No body odor after a day's work in the tropical environment. No skin irritation. No staining on my clothing. Yes, a pleasant natural fragrance. Yes, an easy, smooth application. Yes, a long lasting natural smell. I'm a convert."- Scott T.

"I am so impressed with your products. As someone who sweats a lot, so much so, that I underwent a procedure to scrape down the sweat glands under my arms (hope that's not too much info?!), this product is amazing. No odour, minimal sweating only when I am super hot or exercising; I am in awe. And it's another reminder that bees are amazing!"-Carol D.

"My 27 year old daughter and I are using it for the first time. She is a holistic nutritionist and serious athlete. She sweats just thinking about it! This is the first product that has ever worked!! No Smell!  Yay!! And myself a plant based eater, avid kickboxer and health conscious mother of two am LOVING it as well!! We've tried the healthier products, but never have been satisfied. So THANK YOU for your amazing deodorant and keeping us smelling fresh."-Karen H.